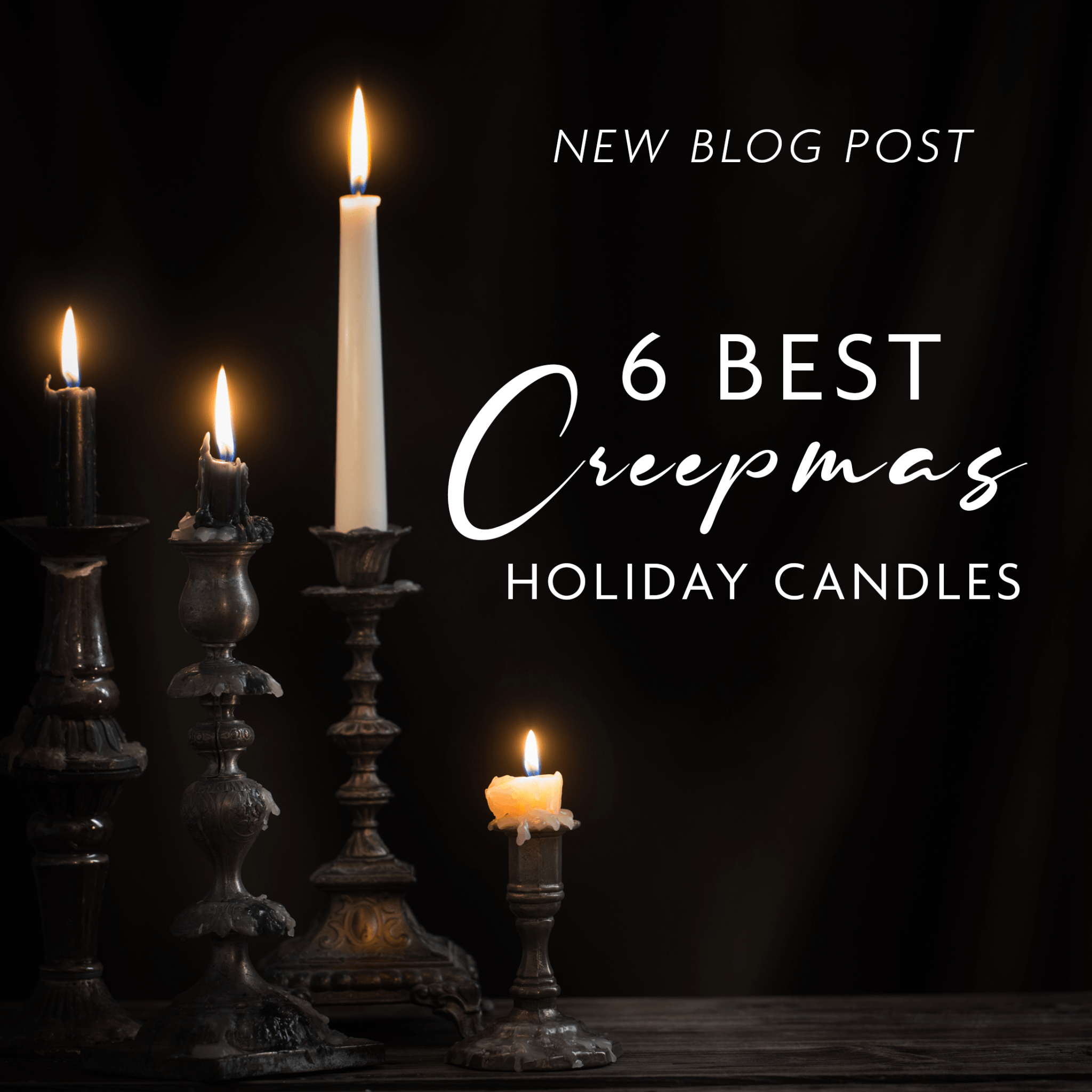 Who doesn't like a little creep in their Christmas?  Gift the unexpected and elevate your mantle this holiday season with these one-of-a-kind gothic candles from small-batch vendors.  Each candle has a distinct personality inspired by the weird and wonderful.  
1. KRAMPUS CANDLE from Graveyard Wanders ($44.00)
It was SO hard to choose just one candle from this incredible brand!  You can tell that the creator's passion goes into each original design and scent combination.  This gothic candle has the scent Bewitching Flame: "Aroma reminiscent of mischievous evenings by a wood-burning fire, Mahogany, Spice, Citrus & Sandalwood".  Please please please go visit her website if you like the style, I promise you'll find more incredible pieces.
2.  SLAY BELLS from Lady A's Candle Emporium ($16.00)
This one made me laugh.  A gothic twist on a tradtional Christmas favorite.  The scent is cinnamon and cloves with berries and vanilla beneath - classic holiday scents, but wrapped in skulls.  She has a few other eerie chrsitmas candles, including Mourning Frost, Unholy Night and Christmas Spirits.  
3.  THE MILDRED PILLAR CANDLE from The Blackened Teeth ($13.00)
Hauntingly festive and utterly goregous.  Get it in black or grey to truly capture the creepmas aesthetic.  This company has a huge selection of candles, wall art and home decor - their spine candle is particularly exceptional.  These three pillar candles also come as a set for $38.  The Black candle is called Midnight Mourning (rich + peppery + sandlewood), the Grey is Cardinal Musk (musk + sensuous + sandlewood) and the Ivory is Ritual Roses (roses + floral + sweet).
4.  MURDER AT THE UGLY CHRISTMAS SWEATER PARTY by Sunshine and Cedar Co. ($17.50)
Don't we all feel this candleat least once during the holiday work party 😂  A fun, macbre take on the fan-favorite holiday theme.  The scent is "...the perfect combination of cool mints, seasonal fruits with hints of oak moss & musk".  You'll smile every time you pass by.
5.  GOTHIC CHRISTMAS CANDLE from Cryptic Kismet ($19.99)
How cute are those little ghosties??  Just the right amount of spooky for the holidays if you prefer more subtle touches.  The candle somes in two scents: Cinnamon Stick and Vanilla.  You may start off setting this candle out during December, but I suspect it will become a permanent fixture.  
6.  KRAMPUS CANDLE from our very own Old Soul Artisan ($17.00)
How could I not include our very own Krampus candle from the beloved Old Soul Artisan?  Her exceptional candles are crafted out of lore and myth, hand-poured in New Jersey and packaged in the most beautiful labeling wtih gold wax seals on the lid.  The Krampus candle scent is Pine, Apple and Winter Florals - like a walk through a bewitching winter forest.