6 Ways to use a Trinket Dish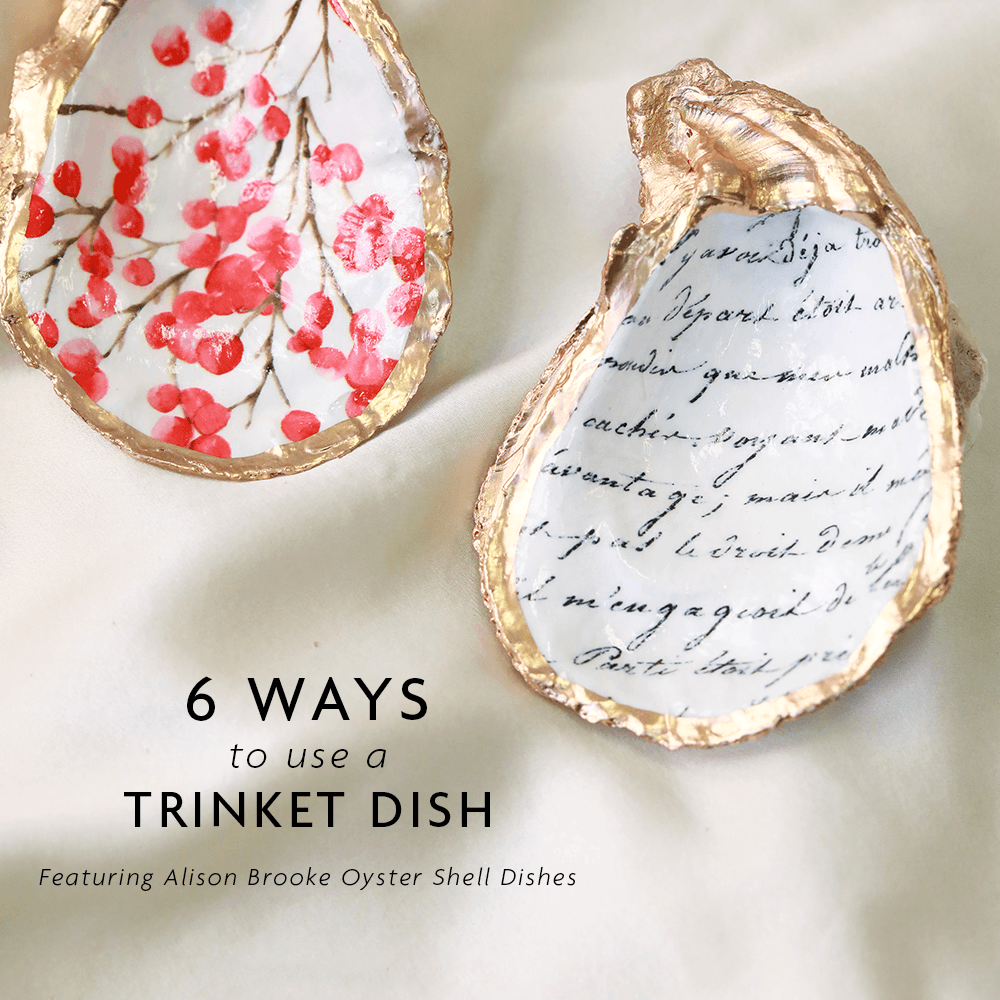 Have a gorgeous trinket dish but nothing to do with it?  We've got a few options for how best to use a small decorative dish this holiday season.  We used our set of Oyster Shell Dishes from Alison Brooke Designs.  They're hand-decoupaged and gilded in gold.  While they're pretty enough to display on their own, we wanted to give you a little inspiration on other possible ideas for how to use the dishes.
1. MATCH-STICK HOLDER
It is candle season, which means match season as well!  If you set out a few candles along your mantle or on the table, place one of these dishes next to it with a handful of beautiful matches. 
0
2.  BATH SALT DISH
My personal favorite!  These dishes make for a beautiful bath salt display, especially if it's a shell dish like these.  Place them on the edge of the tub or on any table you might have nearby.  Pour a little salt into the dish and sprinkle from there into the tub.  As a caution, salts tend to clump together if exposed to moisture.  Make sure not to pour more than 2 or 3 baths-worth of salt into the dish at one time.
0
3.  JEWELRY DISH
A classic use.  Keep on your dresser or nightstand and use it to hold your favorite pieces, or the set you wear every day.
0
4.  CRYSTAL DISPLAY
If you have a favorite crystal or two, find a dish that compliments them and display together.
0
5.  CANDY DISH / CRAFT HOLDER
I didn't have any candy in the office, so had to improvise with our crystal skull charms :)  Trinket dishes make for excellent candy dishes, particulary during the holidays.  They also make stylish holders for craft items, particularly for photo shoots.
0
6.  PURE DECORATION
Sometimes the dish is pretty enough to display on its own!  Any of our oyster dishes are beautiful and unique enough to be displayed alone.  
0
Other Ideas...
Potpourri Holder
Snack Dish (peanuts, almonds, raisins, etc.)
Leave a comment with how you use yours!